Introduction, Features and Specifications
AMD has added a few more processors to their already existing Vishera CPU line-up. The new processors include the FX 8370, FX 8370E and the FX 8320E. The 8370E and the 8320E as the name itself suggests are energy efficient processors rated at a TDP of 95W while the FX 8370 being closer to the FX 8350 comes with a 125W TDP. This does indeed sound impressive as AMD has been able to lower the TDP while still maintaining a respectable boost clock speed. The FX 8370E and the FX 8320E are geared towards those users who have older motherboards supporting only 95W CPUs. This could be a step in the right direction for AMD as they have now made their 8 core processors available to those with Micro ATX Motherboards. Here's a look at the processors.
AMD FX 8370
AMD FX 8370E
AMD FX 8320E
AMD FX 8350
These CPUs are also very well priced especially considering the amount of money one would save on a 95W motherboard as opposed to a 125W motherboard, which is required to run the FX 8370, FX 8350 as well as the FX 8320. These "E" processors are definitely better binned and low leakage ones and as a result lowering overall power consumption. Although these are newly launched they are based on the exact same architecture as the previous Vishera line-up. There have been no improvements made in terms of architecture or performance but AMD has taken the time to work on lowering power consumption which has always been a drawback for the Vishera CPUs. The specifications of the new CPUs can be seen below.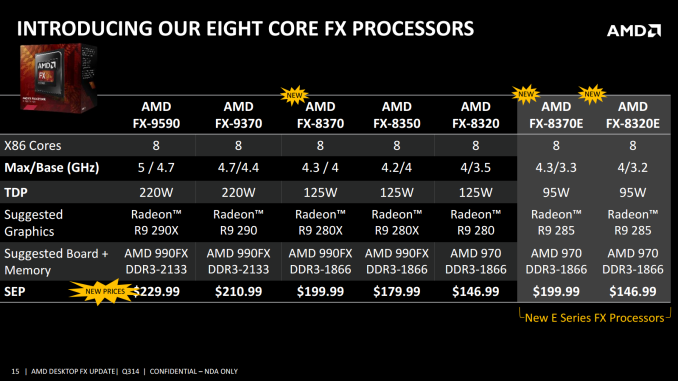 Pages